Update
Best gaming keyboards: Our picks for the top budget, mid-tier, and RGB boards
We've sifted through the latest and greatest to come up with our top recommendations.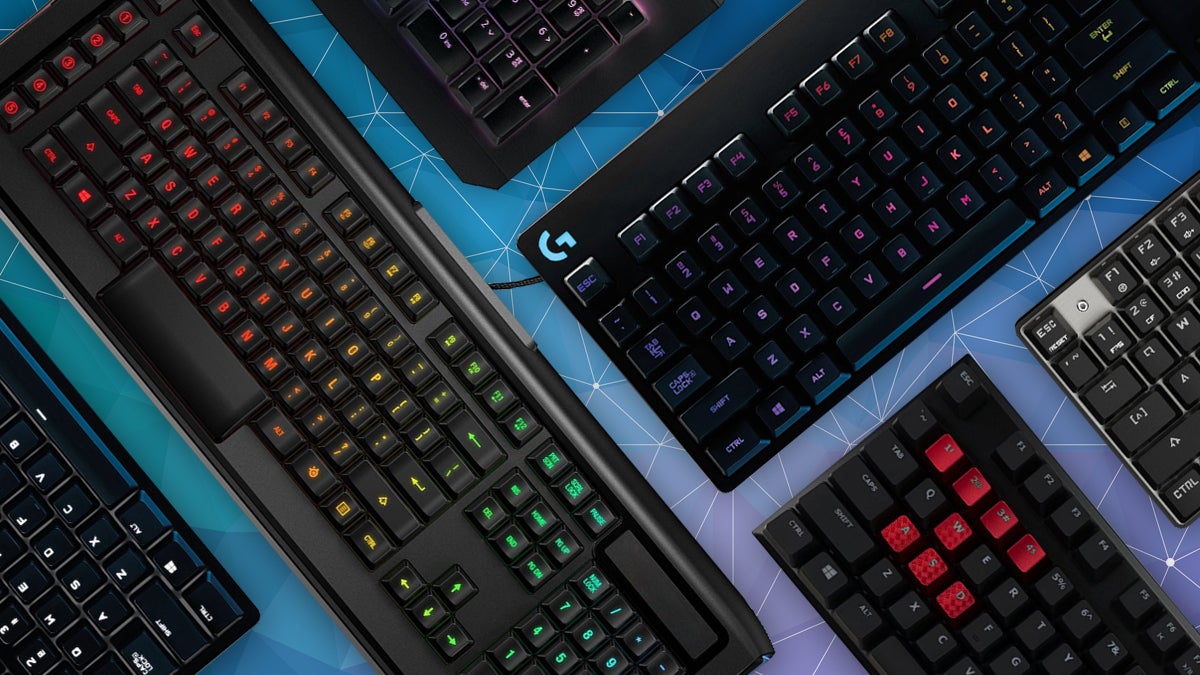 Choosing a gaming keyboard is a matter of personal taste. To that point, there are a plethora of options, with a dizzying mix of features. One person could be into Cherry Browns and white backlighting. Another might favor Razer Greens and a rippling RGB glow. Gigantic wrist pads, compact shapes, numeric keypads, macro keys, volume controls.... You get the picture
To help you sort through the many options, we've rounded up a large number of planks, putting them through their paces, to come up with our top recommendations. All of these are mechanical keyboards, and for good reason—they're simply more comfortable to use over the long haul. But we're open-minded, so if we encounter an alternative that works well, you may see it appear on this list. We'll keep updating it periodically as we test new keyboards.
Updated 3/7/18 to reflect the addition of the Cougar Attack X3 RGB, a keyboard with RGB backlighting and real-deal Cherry MX switches—for less than $100! Thanks to this amazing feat, we now have a new category: Best budget RGB keyboard. 
Best budget keyboard
Not too long ago, the CM Storm QuickFire TK was the go-to recommendation for a sub-$100 mechanical keyboard. For good reason, too: Classic black-rectangle design, no number pad for those who hate them, and fully backlit (with the color varying based on the switch you choose). Plus, it uses genuine Cherry MX switches.
The budget-friendly mechanical keyboard market has expanded quite a bit in recent years, though. These days, I'd go with Razer's new BlackWidow X Tournament Edition—so long as backlighting isn't a must-have.
It lists for only $70, has the same trendy exposed-metal-backplate design of the larger BlackWidow X, and sports a discreet typeface on its keys. Oh, and unlike Razer's other keyboards, you can get this one with Cherry MX Blues.
Runner-up
If you're willing to go right up to $100, the HyperX Alloy FPS offers some nice perks. It comes with backlighting, features Cherry MX keys, and is the slimmest keyboard on the market. I also like that the Mini USB cable is detachable—you won't have to RMA the board if only the cable busts.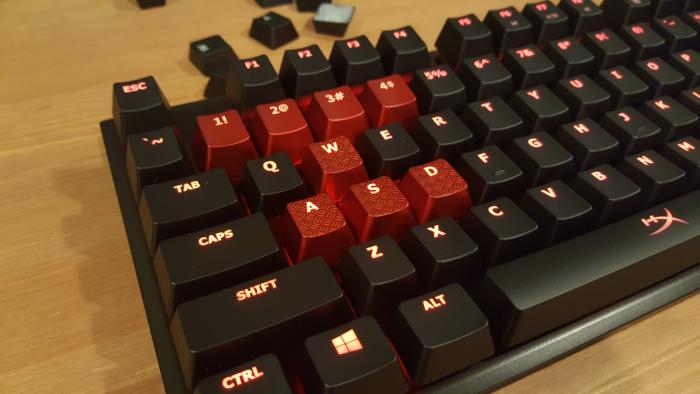 That said, the low end of the market is a free-for-all. Logitech's G610, the Razer BlackWidow Ultimate, G.Skill's Ripjaws KM570, the Corsair Strafe—these are all fine-to-excellent keyboards that feature (or at least can feature) genuine Cherry MX switches and per-key backlighting for under $100. The biggest difference is design, which is a personal preference. I happen to like the HyperX Alloy's minimalist look, but someone else could prefer a bulkier body like that of the Strafe. And things are even more complicated now with a...
Best budget RGB-enabled keyboard
Oh yeah, Cougar's done it: an RGB keyboard for under $100. Usually, at least. Technically, the list price of the 2018 Cougar Attack X3 RGB is $109, but both Amazon and Newegg have it perpetually on sale for $99. Good enough for me.
That's $40 cheaper than our previous low-budget recommendation, the G.Skill Ripjaws KM780—which now takes the mid-tier slot as a result (see below). And it's on par with the non-backlit models from most companies, such as the HyperX Alloy FPS mentioned above.
Some of our previous recommendations, like Logitech's single-color backlit G610, actually listed for more than the new Attack X3 RGB (though at this point you can usually find a G610 in the $80 range).
It's wild. At first I was worried that such a steep price cut meant corners cut, but from our testing that doesn't seem to be the case. Oh, it's not the most attractive keyboard by any means—I'm not a big fan of the dual-color metal/black-plastic look. But it's solidly built and has all the basic features, including media keys emblazoned on the Function row and a rudimentary wrist rest.
Colors are great too, and no surprise—Cougar's using the same Cherry MX RGB switches that Corsair uses in its own RGB keyboards, like the nearly $200 K95 RGB. Yes, that's right, at its core this $100 keyboard features the same brilliant lighting as a keyboard nearly twice the price.
And as I said, they're genuine Cherry MX switches too. That's actually the most surprising part, since budget keyboards usually opt for a cheaper knock-off to cut corners. By sticking with the real deal, the Attack X3 RGB makes for a great typing experience as well.
All in all, it's an incredible deal. The only real downside is Cougar's UIX software, which is needlessly complex and reminds me of Corsair's early outings. Ugly, too. But that's a pretty small compromise when it comes to saving $40 to $100 on an RGB keyboard. 
Best mid-tier RGB-enabled keyboard
While the first RGB-lit mechanical keyboards arrived in late 2014, this extravagant niche is still a relative newcomer. As a result, there's a lot of turnover as far as which board holds the top position.
For now, the ruler of the bunch is the G.Skill KM780. While this is G.Skill's first keyboard, it might look familiar to keyboard aficionados. G.Skill seems to have "borrowed" quite a bit of "inspiration" from Corsair's K70 line and Logitech's G910. It's evident in the shape and layout of the macro and media keys, the typeface used on the keycaps, and even in G.Skill's software.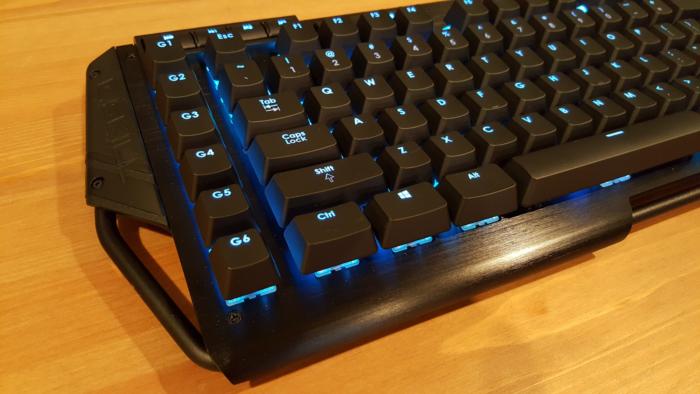 But regardless of how G.Skill settled on its various design elements, it's a damn nice keyboard. Detachable wrist rest? Check. On-the-fly profile switching and macro recording? Check. Column of six macro keys? Check.
The list goes on: the timeless typeface on each keycap, a beautiful LED volume readout, a mouse cable holder for clean routing, and (topping it all off) genuine Cherry MX switches. That makes it maybe the only non-Corsair keyboard to offer both per-key RGB lighting and Cherry switches. (Read the full review.)
Runner-up (Cherry MX switches)
The new LUX refresh of the Corsair K70 fixes the original's limitation of 512 colors, plus you get the new-old Corsair "Sails" logo instead of the ghastly tribal monstrosity that shipped on the old K70. It's also a sleeker, cleaner design than the G.Skill.
But much as I love it, I think the G.Skill just barely edges the K70 LUX out, especially given how much cheaper you can typically find the KM780.
Runner-up (non-Cherry MX switches)
Hate Cherry MX switches but still want that RGB lighting? The SteelSeries Apex M800 is just the keyboard for you.
Granted, its oversized spacebar is a bit of an acquired taste, but the proprietary QS1 switch underneath those keycaps feels pretty damn decent. Like Cherry's popular gaming-focused MX Red, the QS1 is a linear switch—it requires the same force at the top of a keystroke as it does at the bottom. It's smooth, and what it loses in typing comfort due to no tactile feel, it gains in speed and consistency. In other words, it's great for gaming or other situations that benefit from a quick response.
You also get beautiful backlighting. Since the QS1 switch uses a centered LED inside a square box, with the keycap attaching via four prongs into the sides of this square, you get some of the finest RGB backlighing I've ever seen on a keyboard. It's consistent across the whole key, unlike with Cherry switches.
Just one warning: The keycaps on this keyboard can be fragile, and since they're proprietary, there's no way to get cheap replacements. (Read the full review.)
Best ultra-premium keyboard
There is zero reason to buy Corsair's K95 RGB Platinum keyboard. Then again, there's no reason to buy a Lamborghini either. It'll get you to the same destination as a Honda Civic, right?
At $200, the K95 RGB Platinum is the most expensive gaming-centric keyboard on the market. It's almost three times as expensive as an entry-level mechanical keyboard, and nearly twice as expensive as the G.Skill KM780 recommended above.
Put that way, the K95 RGB Platinum seems like an absurd luxury—and it is. Most of its appeal is purely aesthetic, with some of the best RGB backlighting I've seen on any keyboard, plus an ostentatious and purely decorative light ribbon stretched across the upper edge.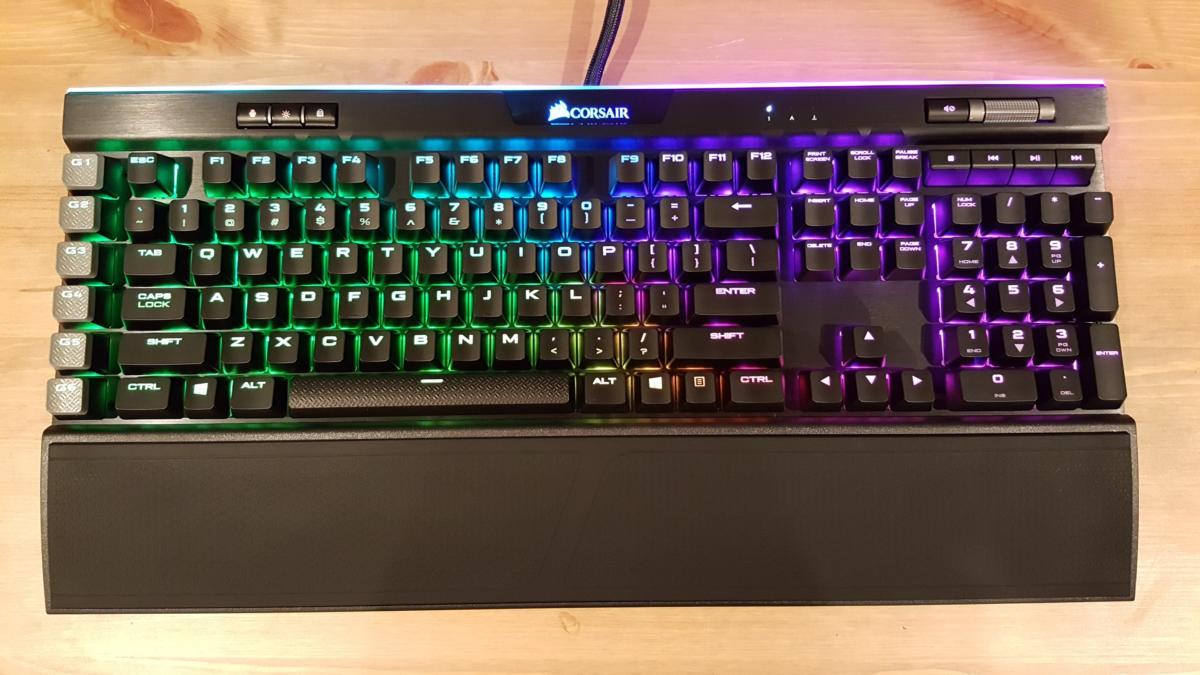 Corsair's also slimmed down the old K90 a bit, scraping two columns of macro keys off the left side for a much more manageable desk footprint. It keeps other features we loved from Corsair's keyboards though, including the volume roller and media keys in the upper left, plus a generous rubberized wrist rest that's more comfortable than it looks.
And it's worth calling out Corsair's semi-proprietary Cherry MX Speed switch, too. (I say semi-proprietary because you can find the same design under the name MX Silver from other manufacturers.) The MX Speed switch is a linear design, but has even less resistance than longtime gaming favorite Cherry Reds. Your fingers will fly over these switches, a fact that's good for gaming but somewhat problematic for actual typing—even a feather-light touch can accidentally trigger a keypress. The resistance is that low.
I came to love the MX Speed switch though after spending a few weeks with it. It'll never replace my beloved Cherry Blues for typing, but in concert with everything else the K95 RGB Platinum has to offer? It almost makes $200 for a keyboard seem like a sane amount to spend. Almost. (Read the full review.)
Why so many Cherry recommendations?
If you've done any research before finding this guide, you'll have seen the many options outside of our topic picks—like those $30 mechanical keyboards on Amazon.
Chances are, if you've found something that steeply undercuts our top choices, it's not using Cherry MX switches, but rather a knock-off. These have proliferated since Cherry's patent expired in 2014, and you'll find a ton of brands on the market. Outemu, Kailh, Gateron, and Razer's versions are some of the most common.
So far, knock-off Cherry switches have earned a reputation for being less consistent and less durable over time. It's hard to to tell whether those claims are based in fact or stem from Internet hyperbole. Regardless, it makes it hard to recommend that el-cheapo $50 Outemu board on Amazon.
Beyond quality claims, the switches themselves can have stark differences. For instance, Kailh switches tend to require more actuation force than their Cherry counterparts, while Outemu Blues have a reputation for being incredibly noisy. Of all the knock-offs, Gaterons are the ones that have received the most positive Internet buzz, but we've yet to test them here.
Other switches out there encompass both new (Logitech's Romer-Gs) and classic (buckling spring, ALPS), and they could appeal to you and your budget. But Cherry MX and Cherry knock-offs cover most of the market, especially the gaming market I'm steeped in as our PC gaming reporter, so that's the focus here. Sorry, all you buckling-spring fanatics.
How we tested
Each keyboard we've reviewed is used over the course of weeks—I'll type out some articles, play some games, and generally put them through hell. During that time, I keep in mind the following criteria:
Switches: As you may have already noticed through the rest of this guide, Cherry's mechanical MX switches dominate as a preference. That's because they're reliable, durable, and consistent. You also typically have a fairly decent of options among the four common variants—there's the tactile and clicky Blues, the tactile but quieter Browns, the heavy linear Blacks, and the light linear Reds.
Other switches aren't automatically disqualified, but few stand out as strongly as Cherry MX switches. If you really require an alternative, Razer's Green switches are a decent stand-in for Cherry Blues and the SteelSeries QS1 is a good Cherry Red alternative. The only switch we don't recommend is Logitech's proprietary Romer-G switch, due to its unsatisfying tactile feedback.
Design: On the whole, "office-friendly" designs are much more universal than keyboards that offer superfluous features or design elements. Legibility of the typeface on keycaps also factors into our final take.
High-end features: Fabric-sheathed cables, macro keys, media keys, N-key rollover, game mode, USB passthrough, audio hub—there are plenty of secondary features that can elevate a keyboard above its competitors. We keep an eye out for which actually work out well in practice.
All of our keyboard reviews
Want to see what else we've reviewed? We'll keep updating this on a regular basis, so be sure to come back to see new products that we've put through their paces.
Shop Tech Products at Amazon